About KTH Railway Group
The purpose of KTH Railway Group is to contribute to the development and increased competitiveness of the railways and the Swedish rail industry by providing expertise in rail-related topics.
This unique organization is able to carry out major research programmes with a broad approach in collaboration with our partners, covering not only technical aspects but also commercial ones, e.g. market analysis.
Throughout the years, KTH Railway Group has improved railway systems and carried out high-impact concept studies, like for example Gröna Tåget . All these projects aim to increase the efficiency of railway transport and the competitiveness of the railway industry compared to other means of transport.
We are proud of our holistic approach, i.e. the possibility to perform studies that do not only consider the vehicle/track system from the technical aspect, but also from economic and socio-economic aspects like indicated in the figure below.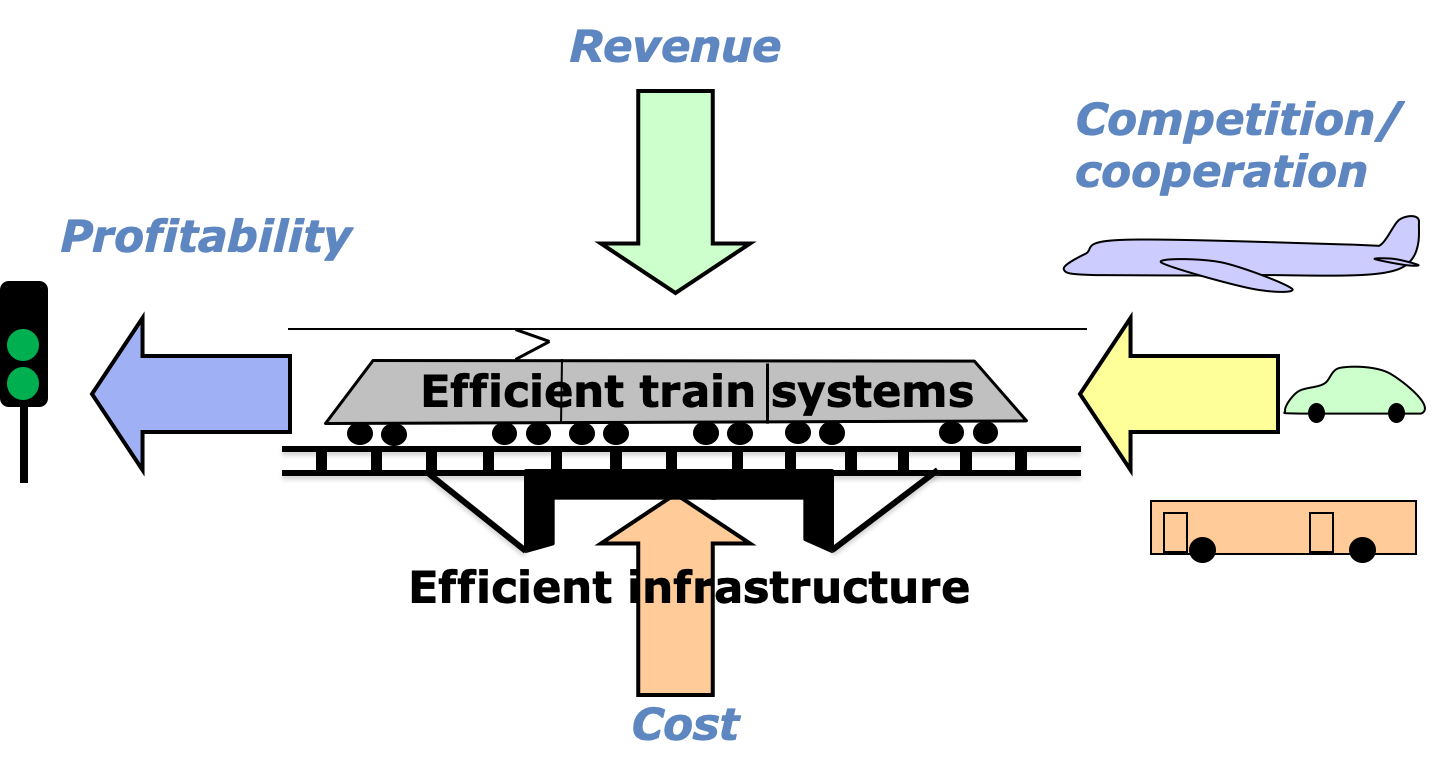 The Railway Group is very international. We are involved in about 10 Shift2Rail projects where we work together with basically all European stakeholders as vehicle suppliers, infrastructure owners, operators, universities and consulting companies. The amount of scientific exchange with partner universities in Europe, USA, China, India, Australia, Thailand and Indonesia is continuously increasing.
The KTH Railway Group is also very active in Railway education. We teach railway students in mechanical, civil and electrical engineering. We have a two-year master program in Vehicle Engineering (Road and Railway), which is fully taught in English. In fall 2018 a new master program in Railway Engineering in cooperation with the University of Illinois at Urbana-Champaign (UIUC) started. Students enrolled at KTH spend one term at UIUC and vice versa. The railway group is regularly arranging training courses for engineers in industry and railway operators/infrastructure managers.
For more information, please contact director Sebastian Stichel, KTH: